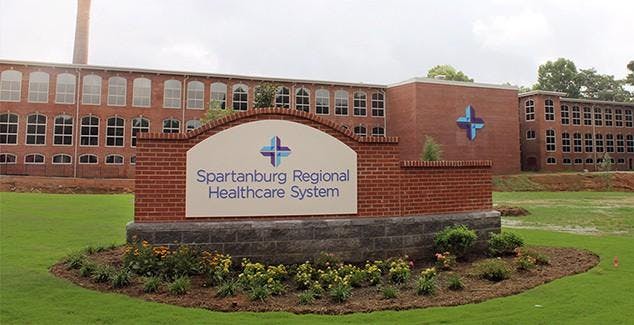 Spartanburg Regional Healthcare System - Senior Health & Wellness
Beaumont: Then and Now
Register Now
About
About
Spartanburg Regional Healthcare System's administrative services officially took up residence in the historic Beaumont Mill in 2016.
Beaumont Mill functioned as a textile mill from 1890 to 1997. It sits on 23 acres off North Pine Street. SRHS renovated the mill for administrative office space. Renovations focused on preserving the mill's historic character, while adding structural, aesthetic and technological improvements that support its new life as modern office space.The space features the original floors, exterior brick and expansive windows that fill the mill with natural light. It has also paid tribute to the mill's textile heritage with photos and memorabilia displayed throughout the building.
Join us for an invitation-only walk through of the renovated building. There will be a social time to mix and mingle after the tour and light refreshments will be served.
Share with Friends
Event Details
Event Details
Tuesday, September 3 5:30 pm - 7:00 pm
SRHS Administrative Services -- Historic Beaumont Mill 700 North Pine Street
Spartanburg, SC 29302
Get Directions