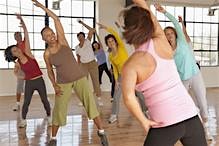 Gibbs Cancer Center
Fatigue & Starting A New Exercise Regimen
Register Now
About
About
Are you struggling with post treatment fatigue or ready to begin a new exercise regimen?
Join Physical Therapist, Lauren Toth, as she discusses ways to combat fatigue and how to properly start a new exercise regimen. This discussion will be followed by group exercise.
We ask that you wear comfortable clothing and shoes.
For more information contact our Survivorship Team at 864-530-6477.
Share with Friends
Event Details
Event Details
Tuesday, July 12 5:30 pm - 7:00 pm
Gibbs Cancer Center & Research Institute - Pelham 2759 South Carolina 14
Greer, SC 29650
Get Directions