Leading our Community in Medical Developments
InSpace Device
InSpace Device
The InSpace balloon implant is an innovative tissue-spacer system designed to restore motion and relieve the pain of a torn rotator cuff. A saline-filled balloon is placed in the shoulder using arthroscopic surgery. The 20-minute outpatient procedure offers patients rapid recovery and return to normal function. Dr. Gregory Colbath, orthopaedic surgeon at Medical Group of the Carolinas – Skylyn, was the first surgeon in South Carolina to use the InSpace implant.
SpaceOAR
SpaceOAR
Gibbs Cancer Center was the first facility in the Carolinas, and one of the first cancer centers in the United States, to use the SpaceOAR® System for men undergoing prostate cancer radiation. SpaceOAR consists of a soft hydrogel that painlessly and temporarily moves the prostate away from the rectum. This allows direct delivery of radiation to the prostate while protecting the rectal area and reducing the potential for unwanted side effects. Daniel Fried, MD, PhD, medical director and radiation oncologist at Gibbs Cancer Center - Pelham, was the first trained and certified physician in the Carolinas to use SpaceOAR. As a result of Dr. Fried's experience and expertise, Gibbs became the first SpaceOAR National Education & Resource Center in the United States.
ECMO
ECMO
ECMO, or Extracorporeal (meaning "outside the body") Membrane Oxygenation, is an advanced life support system that is used when conventional life-support systems, like a ventilator, aren't enough. For patients at Spartanburg Medical Center who experience acute heart or lung failure, this game-changing device is now being used to breathe new life into their chances of survival. Dr. Ronald Figura is a cardiothoracic surgeon over ECMO services at Spartanburg Medical Center, and Jennifer Appling, BSN, RN-CCRN, is the interim ECMO coordinator at SMC.
CyberKnife M6
CyberKnife M6
Gibbs Cancer Center at Pelham is the only facility in the Upstate to offer CyberKnife radiation therapy. The CyberKnife M6 is a noninvasive full-body, radiation system that uses advanced imaging and robotics to treat tumors with unrivaled precision. Daniel Fried, MD, PhD, is a radiation oncologist and the medical director of the CyberKnife facility at Gibbs Cancer Center – Pelham. The radiation oncologists at Gibbs use CyberKnife to treat malignant lesions, as well as benign conditions such as trigeminal neuralgia, meningioma, and acoustic neuromas. All conditions are treated in five sessions or less vs. weeks of traditional radiation.
Opioid Disposal
Opioid Disposal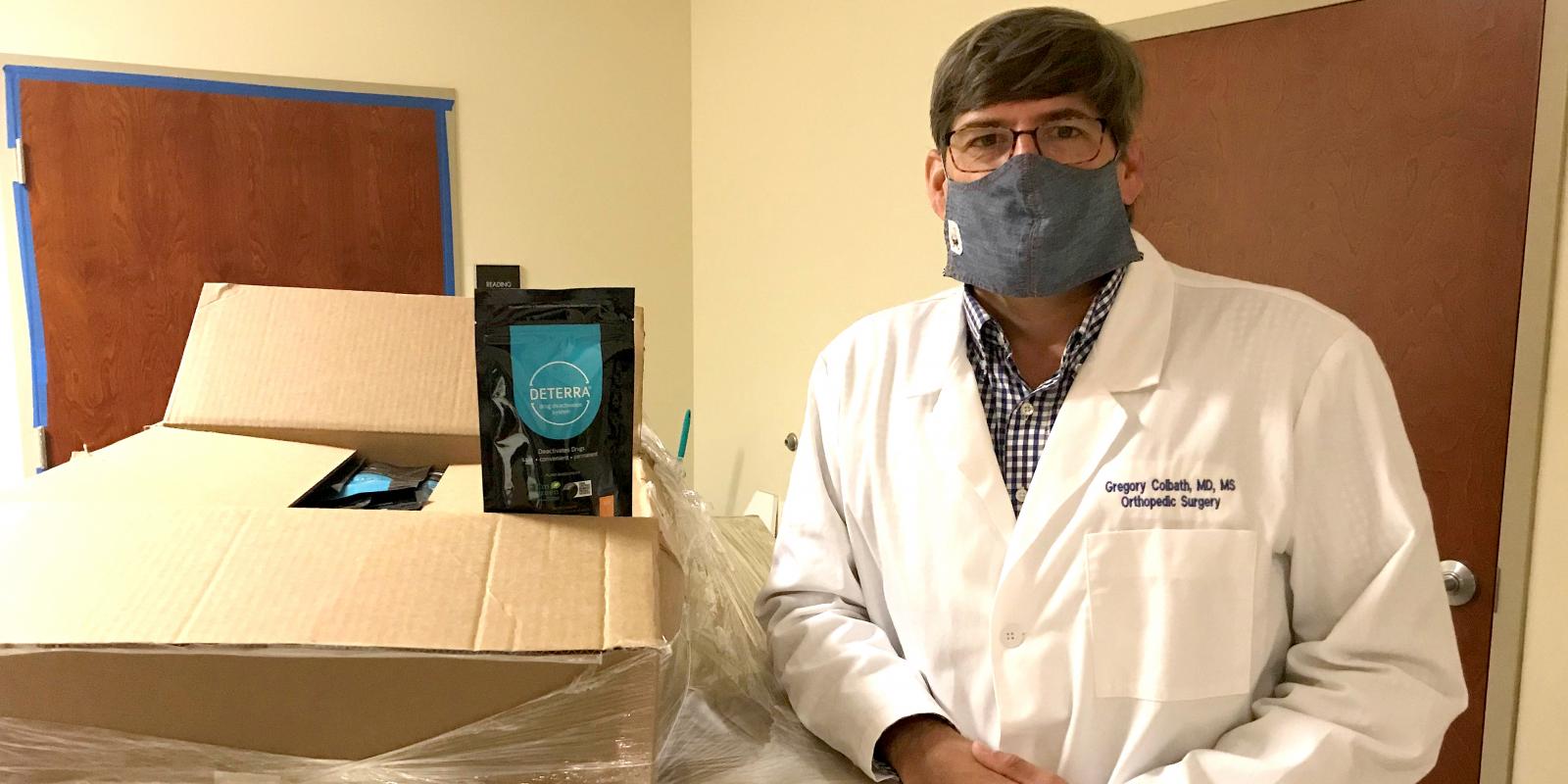 Spartanburg Regional orthopaedic surgeon Gregory Colbath, MD, provides his patients with a specially designed bag for the disposal of any unused painkillers. Dr. Colbath practices at Medical Group of the Carolinas – Orthopaedics – Skylyn. Created by a company called Deterra, the bags include a charcoal packet that, when mixed with warm water, breaks down and deactivates the medicine.